WELCOME RACE FANS!
Dover Downs or BUST!

- The true story of a trip to the Winston Cup race weekend
June 1st - 3rd 2001
Any journey begin with a single step, and this one began with me leaving my Inman Square apartment in Somerville Massachusetts. I loaded the car up and re-checked my check list.
Sunglasses, check.
Sunscreen, check.
Camera, check.
Pretzel rods, check.
Bag-O-Beef Jerky, check.
Dale Earnhardt hat and t-shirt, check.
Cooler, check.
Hearing protection usually used at the rifle range for target practice, check.
Boots? Of course not, there is no way it could rain enough to justify bringing hiking boots, right?
HA!
I passed by the Inman Square "irregulars" hanging out on the corner near the coffee shop in my neighborhood. They are mostly homeless but not beerless street people and Methodone junkies from the local rehab unit of the hospital down the street. Boozed up, shirt-less, beer bellies, tattoos, no teeth, no shoes, tobacco smoking heathen. Ah, city life! I cranked up some suitable mood music - Metallica's "Don't Tread On Me!" worked for awhile.
The drive to my father's place in mid-state Hudson Valley New York was mostly uneventful. Gas prices were high, but not that high. There was one situation of note, and that was the guy in Connecticut with New Jersey plates who should have had a "I brake for farm equipment parked on the side of the road!" bumper sticker. The NJ plates were an omen of sorts, but I did not know that then!
A nightcap of bourbon and ginger ale at my father's place and off to bed. Up early and on the road to Delaware. On the way down, not a half hour into our trip, we got cut off by a Ford Focus with NY plates "YATES88", obviously a fan of Dale Jarrett who drives the #88 Ford for Robert Yates Racing. In New Jersey the drivers were silly. Driving the posted speed limit in the left lane, really! We stopped at a rest area on the NJ Turnpike to get breakfast, which turned into a scene out of the Michael Douglas movie "Falling Down". Arby's had just stopped serving breakfast. In the film the same thing happens to the main character and he pulls a gun and gets his breakfast!
We got a chicken sandwich and a cheese burger, neglecting the famous roast beef.
When we got to Motel 6 in New Castle they could not find our reservation at first. Then when they did they gave us a double bed instead of two singles, but since others were being turned away we felt grateful, for awhile! The room had not yet been turned over and the debris from the previous occupants lay littered all over the floor. They must have had some mad session the night before! "Welcome Race Fans?" We parked our bags of duds and headed for the track to pick up our passes and tickets. Rainy, then clearing, then more rain.
We got to the track and parking was fine in the paved lot near the ersatz "casino" that only had slot machines. I figured the only way in must be through the casino the way they do it at the hotels in Vegas but I was wrong. We signed in and got our passes and proceeded over the bridge to the Infield Media Center (where the rest of the press pool hangs out in air-conditioned comfort hacking away at laptop computers) to meet my father's client - motorsports journalist for the Gaston(ia NC) Gazette, Monte Dutton, rampant Red Sox fan of all things. I like the Kannapolis Intimidators.
My father is a literary agent and editor and got Monte's two books sold.
The first was last years "At Speed".
The new one is a bio of driver Tony Stewart, "Rebel With a Cause".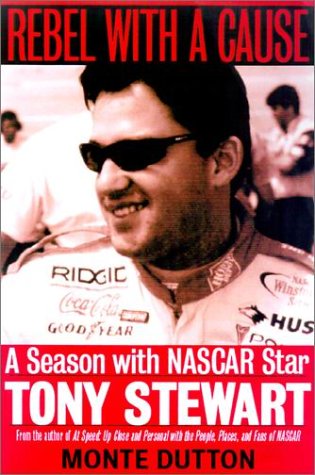 On the way in we saw #22 Caterpillar Crew Chief Tommy Baldwin walking around,
#10 NesQuik Busch driver the soft-spoken, shy and humble Jeff Green,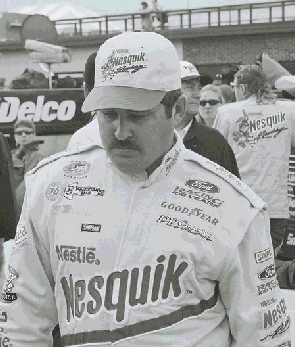 and #7 driver Mike Wallace.
We chewed the fat with Monte for awhile and took a long look around.
The rain delayed action gave us more time to get acclimated to our new weekend home at the track. It was so rainy all practices and qualifying were officially canceled and the Craftsman Truck race postponed until the next day.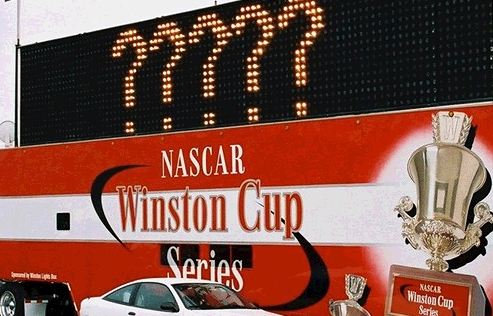 After some photos were taken we hiked back to the car as the downpour commenced.
The parking lot was a huge puddle so at the car we took off our shoes and blasted the heat to dry off. We had made a date to meet Monte at the nexus of local BBQ action, "Where Pigs Fly". Walking in at 6PM to make reservations for 8 o'clock I asked if they had a bar. They only sold beer, so we drove across the street to Fridays where we had an appetizer and a few drinks, Bloody Marys and Super Dry Martinis. Then I had to have a Limeade with a shot of vodka. Ouch!
Back over to the BBQ joint and we meet with Monte and he signs our books. We chow down on ribs, pulled pork, a few beers and sweet tea. Being a little buzzed I could not help myself and stole the Dale Earnhardt Jr. Budweiser cardboard folding table-tent that looked lonely and unappreciated at the next table over. They also had a life-sized stand up of him which I knew would not fit into my pocket!
"Quick you distract the staff while I waltz out to the car with Junior!"
"Uh, yes Ossifer? (hiccup!) But I thought it was free?"
The drive back to New Castle in the rain was also uneventful, except for some jerk with Jersey plates lurch-merging without a blinker, the High Plains Drifter perhaps? Good thing I got my brakes fixed before this trip.
Between the food and the booze and my father's coughing and snoring I got little sleep. They had made the room up, but only gave us postage stamp sized towels rough as burlap for ONE! The scene at the front desk had not changed much. Late arrivers claiming they had made reservations in November were turned away as folks like us who made reservations in March got there early and got a room. Such is life in the Winston Racing Nation. The early dogs get the bones! We got our extra towels and scheduled a wake-up call. Wishing for sleep was a distant dream. I knew from past experience that using the hearing protection in bed would not work at all. Luckily there was no clock radio to look at all night long.