Day 3 = Sunday June 3rd
Another sleepless night and we finally got my father out of the motel forty minutes after the rest of the race fans had already left... that did not bode well for us. We stopped to stock the cooler with ice and kept going as fast as we could. Traffic was backed up but moving until we got to the designated exit for the track. There was a single lane backed up almost two miles! I avoided it and drove South to the exit we found from the day before, we drove North after a quick stop at McDonald's drive-thru and managed not to get in the wrong lane again when we got to the track. We barely got there in time before they closed parking and were luckily not parked in the swamp, but closer to the track on some firm dirt.
I found this #3 BelAir on the way in, nice ride there Old Grand Dad!
We walked to the gate and relaxed in the shade as it was now very sunny at 9AM. The race was at 1PM. So we hung out and absorbed some more of the racing sub-culture and atmosphere. Cute kids with freshly scrubbed faces in Jeff Gordon t-shirts, their weary and frantic parents trying to keep them away from all the souvenir stands... Hold Onto Your Wallet$ At All Times While At The Race!
We got brave and took the elevator up to the top of the grandstands and stood around there for awhile. We could even see the now infamous mud bog parking area from there!
I turned around to point it out to my father and he was a good thirty feet away from the fence that seperated us from a very long drop onto terra firma. I forgot he had vertigo and was afraid of heights! Doh! We could also hear the weak band playing at the Dupont Finishes Hospitality Tent below us and to the right. An image of Jeff Gordon's wife Brooke (ex-Winston trophy girl) tapping her toes and clapping her hands came to mind, then I realized she might not be the type to hang out in a tent with the common folks, sponsor hospitality or not, an air conditioned luxury trailer fit more in with my pre-conceived notion of her preferred accomodations.
Cheeseburgers were six dollars (refer to wallet holding advice above) but they helped absorb some of the beer we were now guzzling, cans of Budweiser of course...
Him: Whaaasssssup?
Me: What are YOU doing?
Him: Watching the race. Drinking a Bud. What are YOU doing?
Me: Thinking Junior might win one.
Him: True, true...
Dale Earnhardt Jr. did come in third on Sunday, behind Dale Earnhardt Inc. teammate and New York native Steve Park...
Jeff Gordon won the race. (rumors of unapproved parts were just that, rumors!)
Before it got started however track president Denis McGlynn announced that they were going to name a set of grandstands in honor of Dale Earnhardt and I'd be lying if I said a tear didn't come to my eye as the two B1-B bombers and four F-16 fighter jets from Dover AFB streaked overhead before one of the F-16's peeled off in the "missing man" formation before disappearing into the Heavens.
We miss ya Dale!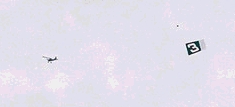 The next tearful moment was the third lap which is now run in utter silence while the fans stand and give the 3-finger salute to Dale Earnhardt.
While that was going on there was yet another third lap wreck (Gerry Nadeau), an eerie coincidence as there have been many this season so far.
Two items of note:
First, do not pass out drunk in the stands during the race with your shirt off or your so-called friends might put some sunblock on you and declare your shifting allegiances for all to see and photograph for the folks back home! And since Hoosiers Tony Stewart and Jeff Gordon get along oh so well...!
Wake up Tony Stewart fan!
You are now on the World Wide Web ya lush!
Second, as we left the track and got back to the car I saw something coming out of a marshy area next to a pile of rubble behind the parking area. He was a young man, not yet old enough to drink legally to be sure. He had one shoe on and was wet from the waist down. He also had a small gash on his cheek that was dripping blood. He staggered towards me. "Are you OK?" I asked. He grunted and walked away. "How'd ya like the race?" I asked. He shook his head and kept walking. Later as we waited for traffic to clear he staggered past us again and my father asked me, "Hey, was that the Creature from the Black Lagoon?" We laughed. "No, I answered, that was The Man With One Wet Shoe!" He might have went to relieve himself and fallen into the swamp, or worse, been there since before the race even started. It's Winston Cup race weekend, do YOU know where YOUR children are? I wish I had had the sense to have gotten a picture of him dripping wet... instead, here is something else to remember the trip by.
On the road and more tired than I have been in ages... we drove to the toll booths and went to merge into the rest of the Northbound traffic when who should come up behind me beeping for me to get out of their way so they can merge in further down the line, thereby cutting a lot of people off... a guy in a blue Mercury Marquis with Jersey plates of all things! Now THERE is a surprise! I motioned for him to pass me on the shoulder if he had to and he did, rolling down his window to demonstrate his verbal stupidity. Not a mile later I was passing him and his friends on the right and I slowed to smile a Cheshire cat grin.
So when I had the chance I got right in behind him and followed him for miles looking at his beady eyes in his rearview mirror. He was looking back and almost rear-ended some poor schlep uninvolved with our issue. I figured I'd follow him and learn something about driving since he was such an expert! Beeping was one thing, but saying something stupid was... well, just stupid! What nerve! He finally got off at a gas station and I demonstrated my non-verbal prowess with the international symbol for, "You jack ass Jersey idiot, learn to drive before I put my size nine foot in your rear dagnabit!" Which was a lot to symbolize in a few seconds while driving by at 50 MPH.
Next stop, New Hampshire International Speedway! I can't make the race, but will take Friday off and watch Qualifying... weather permitting!