NGV's - "Racing Into the Future"
by James L. Cypher

Owner-Manager of Beaconite Marketing
and
Public Utility Specialist
Massachusetts Dept. of Telecommunications & Energy

Presented to the 16th National Natural Gas Vehicle
Conference and Exhibition
held in Providence, Rhode Island
September 14th, 1998

Introduction-

For natural gas vehicles to attain the position in the marketplace they deserve, more efforts must be made to win the "hearts and minds" of garage mechanics, motorsports fans and those who can assist in bringing the vision of a clean-car future to reality. The industry has an identity problem of sorts, which can be finessed in order to expand our "market".

What attributes does the NGV industry share with the motorsports industry? Both are multi-million if not billion dollar per year industries. Both are involved with transportation and vehicles. But while only one is obsessed with speed and high performance, the other is obsessed with emissions, mandates, regulations, and legislation. Seldom does a week go by without seeing the smiling faces of Winston Cup Champions Dale Earnhardt and Jeff Gordon or the commercials featuring the drivers, cars and their sponsors. Race tracks across the country and the world are proving grounds for automotive technology, and NGV's should not be exempt. Racing is fun. It also reinforces traditional American values such as; fairplay, teamwork, competition, rewards for hard work, perseverance, adaptability, and the will to prevail.

There is an old adage in the car business, "What wins on Sunday sells on Monday". This may be an oversimplification, but if those most inclined to purchase a new vehicle see it perform, they often desire it. That is why the test-drive is an important aspect of the sales process. How many presentations have ended with the audience thinking to themselves, "Show me, don't tell me". We need to be mindful that outreach and education efforts must include a hands-on demonstration. People need to see it work, and understand how it works before we can win their hearts and minds. There have been many recent developments that give us hope and which can point us in a new direction, and these will be explored in this paper. There is also a vision of the future which must be communicated in order to initiate a dialogue and debate on where we are headed and where we want to be.

Those in the motorsports industry can be a cynical bunch. "If it's so good, why don't they race it?" is a question they often ponder when exposed to new automotive technology. Why indeed? NGV advocates may need to get out of the executive boardroom or the laboratory and go out to the local racetrack to get a more accurate picture of how the high-performance automotive industry works. We have a unique opportunity to advance our agenda. NGV's keep the internal combustion engine, they are not souped-up golf carts or some kind of speculative flight of fancy, but a real alternative to petroleum-based motorfuels, available now. But the fleet market dominates the purchasing, and therefore the marketing of NGV's. How many of these fleet managers, mechanics and others watch NASCAR Winston Cup stock car racing on the weekends? How many let their buying decisions be influenced by a scantily-clad model on a calendar? How many had a classic car they would drag race on Saturday nights? Probably more than we care to admit. There is a wide cultural gap between those of us with coveralls and grease under our finger nails and those of us in starched white shirts, power ties and Gucci loafers. There is a class divide in the racing world we need to be aware of when formulating our marketing plans, tactics and strategies. What we need is to put a human face on this complex technology, a well-known spokesperson to champion our cause publicly and take NGV's to the next level.

Trends in the high performance AFV arena-

There are several events to be highlighted in order to explain where we have been, and where we could be in the future. These are the tips of icebergs, but they should make us use our creative problem solving skills to advance our industry to where it needs to be competively. Putting your money where your mouth is can pay off real dividends. Enjoy a brief history of high-performance NGV's!

1. The Blue Flame Sets the Land Speed Record
October 23, 1970 is a day that shall live in NGV history. It was on that day that The Blue Flame, driven by drag racer Gary Gabelich, set a world landspeed record of 622.407 mph at the Bonneville Salt Flats in Utah. It all started when a former employee of the Institute of Gas Technology, knowing of IGT's commitment to developing LNGfueled vehicles, asked the IGT to help "launch" a program to build an LNGfueled rocket car. The Northern Illinois Gas Company and IGT interested the American Gas Association in the project. Fortyeight gas utilities and equipment manufacturers contributed to it. What an example of cooperation for a common good and to achieve a common goal. Maybe that kind of "can do" attitude went away with manned moon missions. Why can't we all get together to do it again? Maybe not for the land-speed record, but there are many other mountains to climb in the nascent NGV racing arena.
2. Andy Poulin's NGV Beretta GT stock car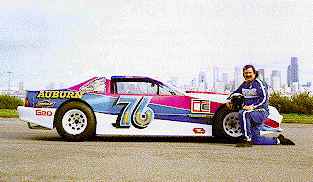 Andy worked at Auburn Chevrolet near Seattle, Washington, converting cars to natural gas power. He liked them so much he hated working on "dirty" gasoline cars. He is also a race car driver. So he built an NGV Beretta GT race car for circle track racing in the Pacific Northwest. Regarding the problems of getting an NGV oval-track car onto a speedway, he said in a Swift Energy press release from 1995, "It took me four months just to convince the insurance company that insures the race track that natural gas cars are safe." He pointed out the lack of safety when a five car wreck spilled 22 gallons of gasoline onto the track, pooling under the hot engines and exhaust pipes. He was a winner several times in the Beretta, including a 40-lap main event at the Spanaway Raceway near Seattle. In 1994 he finished 9th in his class of 30 cars. He dove into the mechanical differences of using an alternative fuel and experimented with different camshaft profiles and gear ratios to produce the best results.
3. Chrysler Patriot Hybrid
This experiment in high-performance alternative fuel vehicles may end up reshaping in the future. Hybrid vehicles combine technologies like gas turbines operating at a constant optimized RPM, batteries, flywheels, supercapicitors, electric motors, regenerative braking, and many other innovations. The design team's goal of a "green car with guts" was certainly attained. LNG powered twin turbines creates the electricity to power the car and charge up the flywheel spinning in a vacuum at 56,000 RPM's, turning electric energy into kinetic energy and back again. That item was created by SatCon Technology of Cambridge, Massachusetts. Although the project was not a success in that it did not race publicly, it did provide us with a brief glimpse of the future. Natural gas powered high-performance hybrids could help bridge the gap between internal combustion engines and electric vehicles. The original Patriot Mark I prototype was shown at the North American International Auto Show in January 1994.
4. Bugatti EB 110 GT - Brooklyn Union Gas - GreenGas
What is blue, foreign and very fast? A quad-turbo 60 valve V12 Italian masterpiece that happens to run on natural gas and held the World speed record for a production car. This car used a conversion system from Italian manufacturer GreenGas and is featured on Brooklyn Union Gas Co.'s webpage. We know under Benito Mussolini the Italians fell in love with NGV's back in the 1930's due to the fact imported gasoline was not going to be a dependable resource with the approach of the Second World War. Their quest for energy independence is commendable, much more so than the fascist politics that made the trains run on time at the expense of individual liberty. This car is what most fleet vehicles are not, fast and sexy! Why is it the Italians have such a flair for style and fashion? Are they really ahead of their time, or are we behind ours?
5. Motion Concept Vehicles
A Canadian company based in Mississauga, Ontario that has built a prototype NGV sportscar dubbed the CH4. This is no anemic "green" econo-box. This is a midengine, rear wheel drive two door coupe with a twin supercharged 4.6 liter Chevrolet V8, sporting an aluminum block and heads, capable of 400+ horsepower. This a ground-up NGV Supercar utilizing the latest composite fabrication and computer assisted design techniques. The CNG tanks were not added in as an afterthought, but became an integral part of the design. They are interested in racing the CH4 in endurance events like the 24 Hours of Daytona, the 12 Hours of Sebring or even a trip across the Atlantic to LeMans. It will certainly take more than a few high profile events to bring this car to production, but they are headed in the right direction, forward quickly! For those who think this kind of effort is a step backwards environmentally, I would implore NGV advocates to better explore the advantages of using recovered landfill methane as fuel for public relations purposes. Please visit their webpage at: http://www.mcv.on.ca/ for the full story.
6. Mobeta Natural Gasser dragster sponsored by MoGas Sales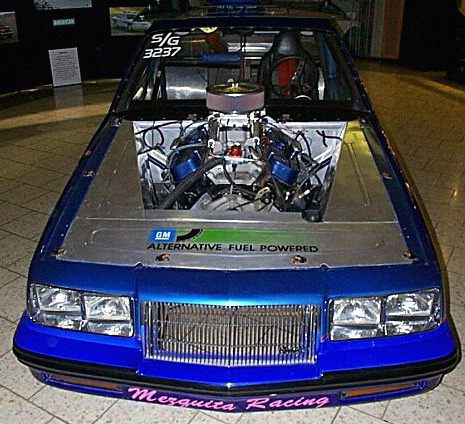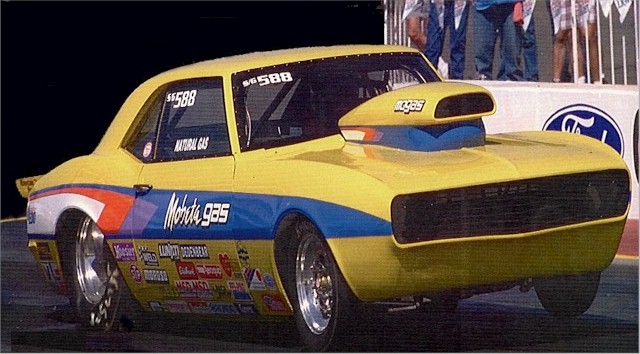 We are very fortunate to have Joe Mezquita here. He is truly a pioneer and a trailblazer, making NGV history. If you have not personally witnessed quarter-mile drag racing, you are in for a treat, albeit a loud one! He races in the National Hot Road Association's Super Gas category, and won a national title this year at the Fram Nationals at the Rt. 66 Speedway near Chicago, Illinois. MoGas Sales is no stranger to racing, in 1996 they participated in The Corel Great Race, a controlledspeed, endurance competition for vehicles built before 1943. It starts in Tacoma, Washington and ends 14 days and 4,100 miles later in Toronto, Canada. They ran a 1932 Chrysler conversion in the antique race. We all owe a debt of gratitude to Joe for helping raise the standard for NGV racing. Information can be obtained on the Internet at: http://www.mogassales.com/ , while the press release from his employers parent company, Consolidated Natural Gas, can be found at: http://www.shareholder.com/cng/news/060398g.htm
7. Yankee Energy Services of Connecticut sponsored stock car
This is a good start for a local distribution company to make, or their unregulated marketing subsidiary. Sponsor a local race team, infiltrate the scene, adsorb as much as you can, advance your knowledge, understand what it requires to be competitive and allow the team to get there. It takes more than deep pockets for a sponsor to do the right thing, although for some race teams that would be more than enough! Sponsorship means more than county fair public relations and advertising at high speeds. When they are comfortable working with a race team and the racing community, think of what can be done to get some NGV's out on the track. The lessons learned supporting a regular racecar would surely be transferrable to racing NGV's. Although the sponsorship for Barry Gold's car ended last year, it is a good example for others to follow. Barry finished in second place in the Pro Stock point standings last year in his #29 Oldsmobile Cutlass. He races at local tracks such as Riverside Speedway in Agawam, Massachusetts. NGV conversion shops should also carefully consider getting involved with racing to expand their customer-base. For more information on racing in New England, please see this webpage: http://www.newenglandracing.com/
8. Indoor NGV go-karts at IANGV show in Cologne Germany May 1997
Indoor racing is a trend worth pursuing. Many parts of the country have temperate weather that shortens the racing season. Those of us who suffer these withdrawal symptoms have come to depend on televised re-runs of events to tide us over, or the truly off-beat and lesser-known racing series. The beauty of alternative fueled race cars is their lower emissions, and their ability to run indoors, any time of year, and I am sure we shall see air conditioned indoor racing venues when it is too hot out to enjoy oneself. Races would not have to be postponed due to inclement weather. Those in the NGV industry who are serious about gaining mass acceptance should seriously look into sponsoring one of these go-karts, or a few of them! Many are used in charity events like the Arthritis Foundation's Mini Grand Prix up in Boston, or the Easter Seals Mini-Indy in Phoenix, Arizona, where a company owns the kart and their employees race for a good cause. Of course these lawn mower engines run on gasoline, but it doesn't have to stay that way. Think big, or in this case, small. These small races have a way of blossoming into well attended annual events that can create the perception your company cares about pollution and public health and is doing something about it. Information on the International Association for Natural Gas Vehicles can be found at: http://www.iangv.org.nz/
9. "Small Block" Allison gas-turbine project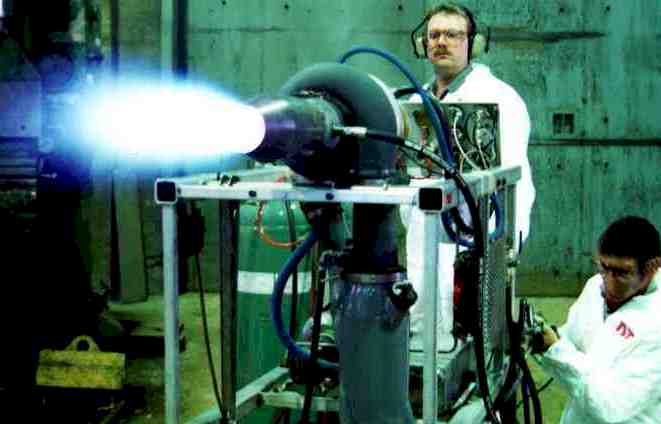 Another high-tech AFV company from Mississauga, Ontario, Canada is Nye Thermodynamics. They're going to mate a 317hp Allison GasTurbine to smallblock Chevy motor mounts, crank flange and bellhousing to be used in any vehicle powered by a small or bigblock Chevrolet engine. Apparently Mark Nye has been building gas turbines at home since 1985. In 1989 he was involved with a project to add a jet engine and an auxiliary power unit to a go-kart. Now picture one of these inside a late 60's era Pontiac GTO with a continuously variable transmission, flywheel and super-capicitor. Another application would be to use this gas turbine in an NGV motor-boat or personal watercraft. Please see their webpage for more information: http://www.gasturbines.com , or check out the efforts of the Gas Turbine Builders Association at: http://www.gtba.cnuce.cnr.it
10. The Safe Alternative Fuel Association (SAFA) spreads the news about racing NGV's
Bert Cox is to be commended for his efforts to sustain this fine New Hampshire based non-profit group. AS a member of the Association, I can relate to you our successes in overcoming public misconceptions and educating them in order to increase awareness of the many advantages of NGV's. Our first public event was the Ninth Annual New England EnviroExpo, held from April 29th to May 1st 1997. The SAFA NGV racecar was on display next to the booth for the Massachusetts Dept. of Environmental Protection. It just so happens that the car's driver, Bert Cox of New Hampshire, works at the Mass. DEP. The 355 c.i. TPI Corvette engine looked very stout. It will races in timed hill-climb events sanctioned by the New England Region of the Sports Car Club of America. Wayne Swanson of Clean Air Carburation came by to see how his natural gas fuel injection system looked on the racecar. These "enviro" expos and conferences are the first place to go for increasing awareness and conducting some high-profile public relations. The audience is already accepting of our pro-environmental and clean air messages.
The next event was the October 18, 1997 hillclimb race up Mt. Philo in Vermont.
The car placed fourth in class in the annual race up Mt. Philo. SAFA has created the natural gas stock car to give broader exposure to alternative fuels and to dramatically demonstrate their potential through events like the Mt. Philo hill climb. In the car's first competition, it placed fourth in the "Prepared 1" class, which includes the most highly modified and fastest vehicles. The course climbs over 900 feet in a little over a mile winding through 20 turns to the top of the mountain. The car is the result of the combined effort of SAFA and their sponsors. The car's principal sponsor, Eastern Truck and Auto of Manchester, NH, converted the 1995 Pontiac Grand Prix to natural gas by installing a new fuel system and CNG tank. The Eastern team are experts in the conversion of vehicles to alternatives fuels, having worked with propane conversions for 15 years and natural gas conversions for 5 years. Eastern also fitted a new body and made other enhancements to improve the race car's performance. "We wanted to increase awareness of natural gas as an increasingly accessible alternative fuel," explains Eastern Truck & Auto owner Brian Benard. "We feel it makes sense to use the rising popularity of stock car racing as a vehicle for communicating this to the public."
Natural gas fuel was supplied by Energy North of Manchester, a gas supplier to the 1-93 corridor. To ensure that an adequate supply of fuel would be available at the remote race location, AMI Leasing of Marlboro, MA supplied SAFA with a portable refueling station. AMI uses the portable fueling unit to support CNG fleets. The race car has other environmentally friendly features beyond its natural gas fuel. It uses only water as a coolant instead of toxic chemicals, and the car is pointed with water-based paint. Water based paints eliminate harmful VOC vapors. The car was the first natural gas vehicle to compete in the Mt. Philo race.
We next took the car to the "World of Wheels Expo" held from January 9th to the 11th, of this year at the Bayside Expo Center in Boston. This is a large event that was well attended by automobile fans in the New England area. There were many cars on display at this event. Unlike the Enviro Expo, this audience was not as aware of alternative fuels. We held a raffle for a go-kart (not an NGV) which did keep people listening to our NGV pitch while they were filling out the entry blank! While the children gawked at the go-kart and tried it on for size, we took that opportunity to make our case for NGV's to the parents. While many of the cars shown were of the heavily modified and customized variety, we did succeed in educating those who were not afraid to learn something new.
The "Race-A-Rama" was held in February at the Big E in West Springfield, Massachusetts. The "Big E" is the site of the regional fair, the Eastern States Exposition, and was another well attended event. Race fans, race teams and those who sell them products and services were all under one roof, technically two roofs as the show has outgrown its original space and now takes up many more square feet than any other New England-area racing industry tradeshow. Whereas the "World of Wheels" had all types of interesting vehicles including motorcycles and trucks, "Race-A-Rama" was almost completely devoted to the motorsports industry. This event had workshops for car owners and race team members. Bert Cox of SAFA attended the workshop on Media Relations. As it turned out, we had some of the best press coverage of any New England area race team! While many had sent out photos and snazzy press releases, few ever got into print. We have been blessed with an interesting angle, or hook, for the newspaper writers to hang the story on, alternative fuel! Do not underestimate the wide-eyed stares and increased interest such a vehicle creates, use it to your advantage and gain a leg up on the petrol-using competition.
11. Ford Mustang Super Stallion using Ethanol (E85)
This 590 horsepower beast was shown at last years Specialty Equipment Market Association show in Las Vegas and at this years New York International Auto Show back in April. Although it runs on a methanol blend, it proves the ability of Detroit's Big Three automakers to create a top-shelf high-performance alternative fuel concept car. The Mustang Super Stallion has a 5.4 liter aluminum head V8 engine coupled to an Allied-Signal Garrett supercharger with intercooler. Simply put that means a more than respectable 4.3 second 0-60 time. If OEM's would produce a high-performance alternative fuel option for their production NGV's, then they would get a much better idea of just what some alternative fuel advocates want, because although we all care about the environment, we are not all "environmentalists" by the strictest definition. Why not allow people to cruise around guilt-free without having to give up their favorite sportscar? It was "Bunky" Knudsen of Pontiac that brought them back from extinction in the 1950's by favoring a high-performance brand identity, combining that keen audience analysis with just enough of a pro-environmental stance could be a whole new marketing strategy for makers of NGV's, truly offering the best of both "worlds". For more information on this fine car please see the webpage at: http://www.geocities.com/MotorCity/Speedway/7414/stallion.htm
12. NGV's featured in the movie, "Mad Max: Beyond Thunderdome"
For those of you who are not familiar with this series of movies, (Mad Max-1979, The Road Warrior-1981) Mel Gibson portrays Max Rocketanski, a former police officer who suffers the loss of his family to a roving gang of thugs on motorcycles in a dark post-apocalyptic future in Australia. The rest of the action is him seeking revenge. Australian Fords provide most of the motion in these fast-paced films. Max's "Interceptor" was a 1973 Ford Falcon GT Coupe, with custom modifications to the 300bhp 351C V8 engine, including an "all-show, no-go" Weiand supercharger used as a prop. In the final installment that came out in 1985, starring Tina Turner, all the gasoline in the world is gone and cars only run on methane recovered from pig excrement! Here's to the future!
The Future -
Humans have the unique ability among animals to both remember the past and look towards the future. If we take the trends and extrapolate them out to their logical conclusions, we have a vision of the future which is very friendly towards high-performance NGV's.
Who are the potential drivers of high-performance NGV's? They might me the person who drives a 1996 Chevrolet Impala SS to work now, the die-hard car enthusiast who will not settle for anything less than the neck-snapping, torque excessive, tire smoking power of an internal combustion engine. They are the Joe Six-Pack's who change their own oil and tune the car up themselves. To them AFV's are exotic and unproven freaks of the automotive world. It is these people who we need to ally ourselves with, to win their hearts and minds. Let us now step into that perfect, clean future... Understand that these vignettes of the future are seen through the authors eyes, and represent what he wants to see.
1. Get Them While They're Young
If there was one thing a sponsor of a NGV racecar should do, it would be get it out to those most able to influence the industry in the future. Students! Bring NGV's into high school auto-shop classes, and vocational-technical schools that have automotive science programs. There is an inherent appeal of high-performance to the younger drivers. If we can plant the seeds in them, they can sprout in the future. The efforts of NATEF, NAFTP, ASE, and others is commendable, but of course more must be done. Student competitions are a great way to stimulate those creative problem solving skills. The reality is that most schools cannot afford their own AFV technology program, so a travelling roadshow is an ideal way to bring the message to those most likely to benefit from it. A local distribution company could help sponsor these visits within their service territory. Scholarship programs are another way to help provide us with the NGV technicians we will need.
2. NGV's as pace cars at races
There is probably no better way to increase the recognition factor for NGV's than to have race fans exposed to them at the local track and/or on television. There is also no better way to increase acceptance than to see the "experts" using the technology first. Equipment manufacturers, OEM's and the local gas companies can do a lot to keep this ball rolling and keep NGV's a high profile alternative fuel technology. Race fans at home who see NGV's are then better able to understand and recognize them, increasing acceptance, or at least encouraging a lively debate on the alternative fuel vehicle issue in the pits, grandstands and in bars and restaurants as well as living rooms across the United States. The days of home-made cars driving on local dirt tracks is not completely gone, but as the popularity of racing keeps expanding, those who consider themselves "fans" are increasingly living in areas where there is pipeline gas service and not just "bottled" gas for their double-wide mobile homes. This again brings up the class warfare in the racing world, with the "grease monkeys", "gear heads" and "rednecks" who follow American stock car racing on one side and those more refined and dignified types who follow Formula One and other European-style racing on the other. Be aware of these cultural differences when doing audience analysis for your special events, so when you talk about the "Oak Ridge Boys", they may not know you mean the fellows down at the Oak Ridge National Laboratory. Perhaps the "best" NGV pacecar would be a high-performance option to an OEM offering, maybe some far-sighted company could turn a dedicated NGV Ford Crown Victoria into the same kind of awesome, rear-wheel drive, tire-spinning option the Impala SS was on the Caprice Classic.
3. Big block NGV pro-street show car
As has been said, "There is no replacement for displacement". Who has a 427 cubic inch, 450 horsepower big-block 1972 Chevrolet Chevelle that runs on natural gas? No one that we know of, but it is on our high-performance project wishlist. What better way to spread the news about the primacy of NGV among AFV's? This particular project is for the car show circuit, since due to the nature of the equipment, it might be hard to keep this machine street legal. What is required is a used classic car in a glider configuration, no engine or transmission needed. There are many classic cars available that are in fine shape, but are not considered "collectable". Either the engine is not original, the serial numbers of the chassis and the engine do not match, or there is no engine at all. Adapt a used CNG-breathing truck or bus engine for passenger car use and then hold on for the ride of your life! The car can be sponsored with a company's name on the side, it can be used by them when they are exhibitors at conferences like this one. It can be used in conjunction with their marketing efforts for special events, company pic-nics, and the like. It should appear in as many custom car magazines as possible. Write up a good press release and have some good color photos available. Post all of these on a webpage to make it easier for others to report on the history you are making, and just try to keep your fleet mechanics away from it!
4. "Classic Conversions" - using classic cars w/CNG engines
A friend once asked why they do not make large displacement V8 passenger cars any longer. I began to recite the reasons, the oil crisis, federal emission laws, competition from more fuel efficient foreign cars. Then it hit me. A person could take an older classic car and retro-fit a clean NGV engine into it. This was the original reason I began my own NGV project. We were going to obtain an engine-less 1972 Chevelle and install a dedicated 350 c.i. NGV engine into it. Since the cost of the project outstripped our budget, it was temporarily shelved. Although the idea of cruising guilt-free in an environmentally friendly vehicle has survived, and may still see the light of day and the car show circuit.
5. NGV companies sponsor races
After a company begins to be part of the racing scene, they may wish to explore other options as far as involvement. What to do after you got an NGV in as a pacecar? After you sponsor a car? What are the next logical steps to take? Sponsor a race! Make an investment. The probability that an NGV-only support race would be included on the program increases greatly if those with the interest in them doing so are the ones paying the bills. This activity is not for the faint of heart, and again should be started as a small event, like, the "Local Gas Co. 100", if that works, make it an annual event. Work closely with the local car dealer that sells OEM NGV's or with the local conversion shop you have a relationship with. Insist on having space for NGV educational materials to be handed out, get the NGV pacecar out in front of the fans again, race fleet vehicles for charity, set aflame full CNG cylinders in the cars to prove their safety, drop cars from great heights to prove they can withstand an impact. Seeing is believing. Bring those exciting "torture test" videos to life! Do not forget to send out press releases if you are going to make history. Maybe local television would bring out a news crew to report the event. Consider starting small, with a day at the races for your employees and their families, a pic-nic under a hospitality tent, or have an event that you can invite your best customers to. Some of these kinds of events can be held during off-times when the track is not being used. Another fine program would be to have an employee day at the track that includes some basic instruction in driving a racecar. An NGV company could also think seriously about doing cable advertising during car races.
6. All-season all-weather indoor NGV racing
Wherever there is a stadium or civic center that has monster truck shows, they can also have indoor NGV racing. As stated previously, where racing is a seasonal activity the true fanatics are always looking for ways to fill the void. Some opt for watching pro world rally racing from Finland Malaysia, while others will watch truck races on ice from Minnesota and Wisconsin. An indoor NGV racing series would be an amazing addition to an already busy televised motorsports schedule. What do race fans do when their local event is rained out? Suffer! The advent of rain tires for racing may alleviate the need to postpone races, but that wet surface technology does little to keep the fans in the grandstands dry! Build it and they will come. What's next? An indoor 1/4 mile drag strip?
7. CNG refueling at racetracks near gaslines
If the objection to racing NGV's is fuel availability, do something about it! Form an ad-hoc group of interested parties, or use the resources of an existing group in your area that would be willing to assist your efforts to expand NGV's. If the track already has gas-lines for food service and hot water, it would be easier than investing in a line extension. A portable compressor station capable of refueling a handful of cars is the least expensive option. That low-buck set-up could pave the way for more NGV's that just a pacecar or a demonstration vehicle. Unfortunately many racetracks are in rural area far from gas mains, so be aware of that refueling dilemma when taking your NGV race team on tour.
8. NGV Go-Karts at amusement parks
Again, get them while they're young! I love to race the go-karts at the amusement parks, but oh those fumes coming out of the tailpipes of the karts in front! What a health hazard! Especially for older folks and children. Why not convert them to clean natural gas? That way they could also race indoors, in any weather, in any season. Tracks could then be made indoor-outdoor combinations with tunnels and other enhancements. Disney has made efforts to use AFV's in their operations. Other such facilities can easily benefit from using NGV's in their in-house fleets, including fork-lifts and other purpose-built vehicles. If they use pipeline gas for food service needs, expand them into vehicular applications. Start small, get some mileage under their belts and let the program expand naturally. Eventually they will wonder how they did without them. Users of these mini-NGV's will be sold on them, if they even notice they use an alternative fuel. Remember to direct their attention to the fact to increase awareness. A simple logo or decal is enough to begin to create some "meta-communication" favorable towards NGV's.
9. NGV commercial endorsements
"What if's" are a way of life. They allow us to envision the way things "should" be. For those of us who truly believe in the benefits of NGV's and drive them daily, we already live in a more perfect and clean future. Testimonials from celebrities is a way of life. We have come to accept their status, even if we manage to attenuate the messages. We see Michael Jordan on television and know him in a "post-modern" way. What if Winston Cup Champion Jeff Gordon drove an NGV as a daily driver? What is he made commercials touting the superior performance of NGV's? What should be the role of "opinion makers" and "trendsetters" we aim to convert to our cause. Within organizations are agents of influence. They can make or break new technologies by either embracing them or rejecting them. It would cost an awful lot to pay some "name shoe" to pitch NGV's, or maybe just a little luck. We need to put a human face on this wonderful technology and spread the wealth to others, a pitch-person would certainly assist in achieving the goal of increasing recognition and acceptance. What is the collective identity we wish to communicate? Whole industries can have identities, created on purpose and carefully controlled, or made by the audience, out of the industry leaders control or worse created by their competitors. What do we want the spokesperson to represent? A pro-American energy independence? Environmental considerations? An earthy homespun appeal? Young and high-performance oriented? Or a composite of all of these. Maybe it could be a fictional person.
10. NGV-specific aftermarket parts - the forgotten retail channel
Someday an NGV enthusiast will be able to drive down to Pep Boys, or Big A Autoparts and get a PRD, stainless steel tubing, a regulator or any number of NGV-specific after-market high-performance products. The era of NGV's being in the realm of hobbyists could return. As those with adequate training are employed in the industry and they are working on their own cars, they may find themselves wanting more. So there should be resources for these pioneers. NGV equipment manufacturers should expect and plan for selling these bolt-on performance enhancing modifications, and sell them through the normal retail channels that exist to support the rest of the marketplace. This will require some training so the wrong parts are not sold, there will be safety and warranty issues to deal with, but the main idea is to get NGV's out of the "special interest" category and into the mainstream.
Acknowledging that there are people ready, willing and able to work on their own cars is a good beginning. The worst thing to do is take away the feelings of success and accomplishment that working on your own car in your garage provides. There is not enough volume to justify this at his point in time, but as the market expands, the NGV industry will have to better mirror the rest of the automotive aftermarket part industry. Cutting the do-it-yourselfer out of the picture will engender more bad feelings between potential customers and the NGV industry. Alienating a key market is just shooting yourself in the foot. Be aware of the Speciality Equipment Market Association, (SEMA) and visit their webpage at:www.sema.org, they are a key aftermarket automotive parts group. Consider becoming a member. Their next event will be their 1998 SEMA Show, Nov. 36, 1998, in Las Vegas, Nevada. Some companies may wish to consider setting up another division or subsidiary to do this kind of work. That is, activities that were never traditionally conducted by NGV companies. This is particularly important in regards to market segmentation and corporate identity. If it's a stretch to redesign an image of an older brand or company, create a new one. Remember, brands make promises that products deliver! Consider the slippery slope of advertising conversion kits in "hot rod" magazines. How would the pitch to the reader of that publication differ from the message you want to send to a state or municipal fleet manager?
11. NGV racecar fabricators move into AFV business incubators
The Alternative Fuel Technology Center managed by the New York State Technology Enterprise Corporation, is an AFV business incubator located at a former Griffiss Air Force Base in Rome, New York. (www.nystec.com/aftc) The NGV race teams are on the cutting edge and should be located near facilities, resources and others with the technical expertise to create the clean car future on the race tracks across the country. Another such facility is located in Alameda, California at the Naval Air Station is called "Project Hatchery" and is operated by CALSTART. (www.calstart.org/projecthatchery/phalameda.html) Perhaps such a business incubator will exist in Charlotte, North Carolina near the other race shops in that area. Perhaps some day a whole fleet of high-performance NGV''s will exit through an airplane hanger and do a few test runs down the runways at these former air bases.
12. BMW Hydrogen Car vs. Mercedes Fuel-Cell
Picture you and your family curled up on your couch watching on your high-definition digital TV the race of the future, the Trans-Europa AFV Rally. The BMW M10 powered by hydrogen is ahead after the fourth stage of the race, in hot pursuit is the Mercedes fuel-cell powered entry. Who will win? What technology is best? We shall see. Foreign competition is a fact of life. The day may come when good old gasoline powered cars enter races in the "antique" category. It will be creative marketing strategies, including some non-traditional ones, to get this industry where it could be in the hearts and minds of the racing fans and the common man on the street. Think big, keep your eye on the ball and go for it. The worst thing that could happen is a horrible accident or a lawsuit, just make sure all participants sign a waiver form.
13. NASCAR-NGV Engine/Oil promo
Jasper Engines of Indiana sponsors a Winston Cup stock car, the #77 Chevrolet driven by Robert Pressley, and many other cars in several other divisions, including drag racing series. Heavy duty NGV engine manufacturers Caterpillar and John Deere also sponsor Winston Cup racecars, the #96 Chevrolet driven by various drivers, and the #97 Ford driven by Chad Little. Some of the same motor oil manufacturers who sponsor race cars have an NGV-specific low-ash motor oil. Sometimes a team will do a special promotion and paint their car a different color for one race. It would be great to see a car painted green and advertising their alternative fuel engines or NGV motor oil to a nationwide audience. It's just that simple... Start small, think big and realize this is a "game of inches", including the psychological warfare component.
14. NGV's at car shows
Turn some heads and make some waves. Once a company begins the task of becoming part of the high-performance automotive industry, they may eventually feel the need to hawk their wares at a car show. Many of these are quaint local events to benefit a local civic group or charity. Others are run by model-specific car clubs and are regional events. Then there are the national touring shows like the Goodguys and Super Chevy. These tour dragracing strips, county fairgrounds, and other venues. At most racetracks there is a manufacturers midway where tents and trailers are set-up specifically to help retailers meet their customers, and potential customers. A company doesn't have to start off selling conversion kits or cylinders at the races, but distributing literature about where one could a car converted is a good start. Have a high-performance NGV on display with the hood up for all to see. Once again, win the hearts and minds the hard way, through brute force repetition! The first year you will be a mutant freak, the next year it gets a little easier until you are accepted. Again, start off small, event and investment-wise, then grow to fill your niche before someone else does.
NGV owner groups are another way to make the scene. Companies and organizations can help establish owner groups that share information through e-mail lists, webpages, newsletters, legislative action updates for lobbying efforts, weekend bar-b-que get-togethers, dyno-days where the members cars are tested on a chassis dynomometer to assess horsepower and torque, and many more activities can be included, just be creative. Attend the car shows as a group because club participation awards are often given out to the club with the most members attending. In Brookline, Massachusetts, is the Museum of Transportation where they have an Electric Vehicle day. EV owners come to look over each others cars and compare notes. There should definitely be an NGV Day as well, it could also be combined with the EV Day into an AFV Day. Keep your eyes and ears open, opportunities are all around us. These are all good ideas for achieving local and regional exposure, but what may be needed is a permanent national touring NGV showcar exhibition.
15. Project Caprice 9C6
9C6 is the GM Special Equipment Option code for the "taxi" package. Taxis and police cars (9C1's) have more heavy-duty equipment than the regular production models. I kept my eyes open and when I found out the Clean Air Cab Company of Washington D.C. was going out of business, I decided to look their fleet over. They had four 1993 Chevrolet Caprice Classics and twelve 1994 Ford Crown Victorias. All are bi-fuel conversions done by Kleenair Systems of West Virginia. I bought it and drove it back last October. The main thing it needed was a standard refueling connector. All of the refueling stations in the area are NGV-1 compatible. Once that was done I focused on the cosmetics, new tires and rims and a basic black paint job and the removal of the sign on the roof. It was good to be able to drive around without people trying to flag you down for a ride to the airport.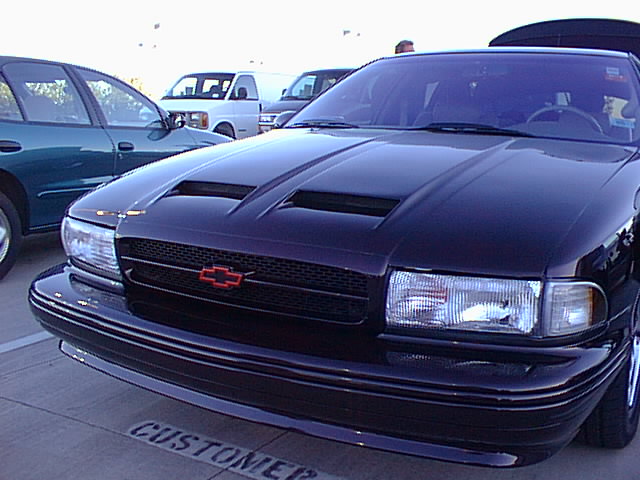 I brought the re-done car to the Super Chevy car show held at New England Dragway in Epping, New Hampshire. While I did not show the car at the event, I did do some valuable strategic reconnaissance and touched base with the local car clubs. I ended up joining the Impala SS Club of New England and am considered by them to be a cousin, since the 1994-1996 Impala SS's are based on the same GM B-body chassis. Encouraged by my analysis I decided to show the car at the next local event, the "All Chevy Show" in Farmington, Connecticut. That event was sponsored by the Connecticut Chevelle Club and benefitted the Hole In The Wall Gang, a favorite charity of race car driver (and actor/gourmet food purveyor) Paul Newman, that runs a camp for children with blood diseases. At that event the NGV Caprice was put into the "Modified" class. I answered many questions about CNG and the car's history. There seemed to be those who had heard of AFV's and were willing to learn something new, and those who felt if they were forced to learn something new, it may displace the part of their brain devoted to beer and professional sports!
Next was the Tewksbury Massachusetts Cruise Night held on Sundays in the parking lot of a plaza mall. While this show had no judging and no prizes, there were many classic and newer high-performance cars on display. It was a rather informal affair, with people looking at cars and asking questions, comparing modifications and performance statistics. There are probably many such ad-hoc "cruise nights" in your part of the country, you just have to look for them. At this event I parked next to the other GM B-body cars, all 1994-1996 Impala SS's. SS owners were puzzled at first, but again, exhibited a healthy curiosity in the alternative fuel former-taxi cab that now looks like an Impala SS "wannabe".
I then brought the NGV Caprice to the Fairhaven Massachusetts Car Show, a local event held by and for the benefit of the neighborhood improvement association. At this event I was placed in the "Special Interest" class, which included many cars that simply did not fit into any other category. Bi-fuel conversions are certainly NOT considered "stock". I was again pleased with the attendee's level of interest and helped them to better understand the many advantages of NGV's. I even suggested to a few of the more interested viewers that I was considering installing another gas line out of the trunk for a gas grill! They loved that idea, especially around lunch time.
In conjunction with the Impala SS Club of New England, I attended their "Impala SS Day" at the Lebanon Valley Dragway in West Lebanon, New York, near Albany. We were allowed to have two staging lanes to ourselves to find out just how fast we can go in the quarter-mile. I did not do too well compared to the Impala's. While they ran mostly in the 14-15 second range at 90-100 mph, my three runs were all closer to 18-19 seconds at 70+ mph. Some of this difference has to do with the horsepower ratings of the engines between 1993 and 1994, 205 vs. 260.
Most of the Impala's are heavily modified to deliver better performance. They also do not have two heavy CNG tanks in their trunks! There was bracket racing eliminations afterward. A gathering of gas utility fleet vehicles at a drag strip would be a great way to break into the racing scene. NGV Fleet Day perhaps? Maybe it could be set up under the auspices of the regional gas association for the benefit of charity. Good PR is where you find it!
Conclusions-
There is a wide world of automotive and racing events which can be successfully exploited by those with an interest in high-performance NGV's. Start off small and grow with time. Pick and choose the "arenas" where you feel comfortable operating, whether those are traditional car shows, environmental tradeshows, gas industry events, drag races, or other organized tests of speed and power, you can only help our cause by increasing awareness through education. Focus on winning those "hearts and minds". Racing is a hard sport, but it is also fun! Fun is usually the reason people get into motorsports, until they get too good and start getting paid for it!
Consider participating in a way to maximize your return on investment while learning more for future use. These types of projects do not happen overnight, they require a concerted approach that addresses the needs of all involved. Maybe your NGV company is not ready to go out and bracket race at the local drag strip, but there are many things that can be done to get the ball rolling. Perhaps sponsoring a car is financially out of reach, so consider becoming partners with another local NGV company to co-sponsor a team. Of course, you may work in an organization that is resistant to progressive ideas, in which case you could get a group of like-minded high-performance NGV enthusiasts and set-up a non-profit group to do the NGV racing. Use your creative problem solving skills and have fun!
- About the Author -
James L. Cypher owns and operates a home-business, Beaconite Marketing, which is involved with the AFV industry in the New England area, mostly through the "NGV MarketSpace", (http://www.beaconite.com/ngv.html) an Internet-based forum for the sharing of NGV information and news. During the day he works for the Massachusetts Department of Telecommunications & Energy in their Consumer Division. He manages their database of complaints and compiles statistics for reporting. He was previously the Office Manager for the Peregrine Energy Group, a Boston-based regional energy industry consulting firm. He successfully completed the "Introduction to AFV's" class at the Wentworth Institute of Technology. He owns a used bi-fuel NGV and is a member of the New Hampshire-based non-profit group, the Safe Alternative Fuel Association.
Contact: James L. Cypher, One Beacon St., Somerville MA 02143
Tel: 617-576-6923
eMail: beacon@beaconite.com
eMail: james.cypher@state.ma.us
Web: http://www.beaconite.com